I've been waiting weeks for my Alesya Bag to get here. I found out in late August that I'd been selected as a Brand Ambassador, and I could hardly contain my excitement — it's an absolutely beautiful product that combines style and function, made with women in mind. I mean, come on ladies: how many times have you mumbled and grumbled over cumbersome laptop bags, wishing they were daintier, prettier, and just made your outfit look good? Well, look no further. The Alesya Bag is all you need for your work day — trust me. Ask anyone who knows me and they'll tell you I'm a purse-aholic; my closet is literally bursting with them. I've been obsessed with purses for longer than I can remember, and I absolutely love my MacBook Pro. I want to be stylish and take care of my beloved computer. This summer, I was trekking from the Bay Area into downtown San Francisco for my internship with Livefyre, and I sure as heck wish I'd had this bag when I was doing that. It would have solved so many of my problems, believe me!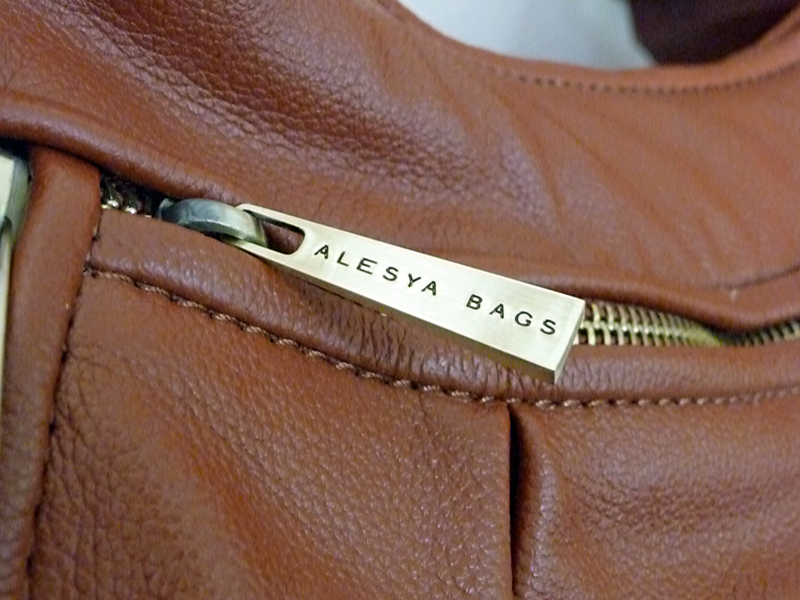 I'd read a lot of hype about the thoughtful packaging and presentation from Alesya Bags since they've come out, and I was excited to document the process of unveiling my new bag to share with all of you. In a recent post, Alesya Bags founder and mastermind, Alesya Opelt, mulled over the secrecy about the bags leading up to their release. I'll admit I can't decide what the better approach would be: act like Apple and have complete and utter secrecy to build suspense leading up to the product launch, or give interested customers peeks into the process leading up to the final goal? While I love a good amount of suspense, I think well-timed sneak peeks can really get the fire going in potential customers. However, what's done is done — Alesya Bags have been out for months! So, I won't be spoiling much for anyone by showing off the presentation of the bags…but maybe I'll get a few more people excited along the way. After all, who doesn't love a company that makes them feel like the product they're buying is one of a kind?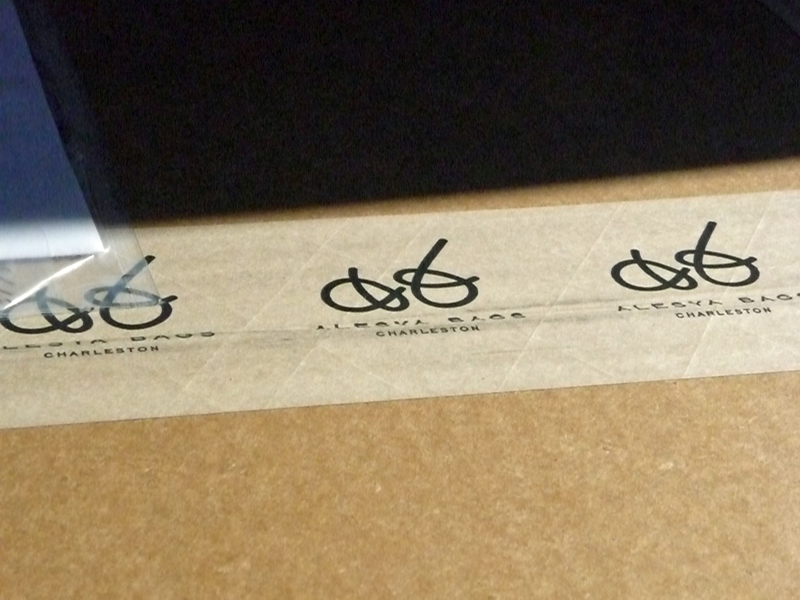 My bag arrived at school and I hauled it across campus to do a photo shoot in one of my school's loveliest dorms: Gabrielle Jungels-Winkler Hall, otherwise known affectionately as GJW. I read somewhere that GJW was the most expensive dorm in the country per square foot at the time it was built, and let me just say that that doesn't surprise me. Scripps is a little bit obsessed with beautiful things; Forbes recently ranked us as one of the top 10 most beautiful college campuses in the world. What better place to do a photoshoot for Alesya Bags in the nicest dorm on campus? I took to Twitter to preview the location of the shoot and received some very envious tweets back. I know, everyone who attends Scripps College is just a wee bit spoiled.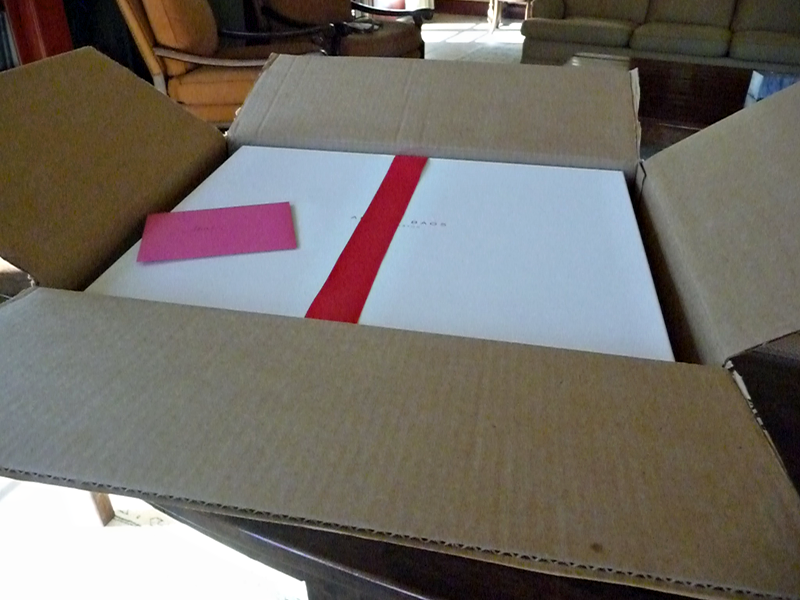 When I finally forced myself to cut through the custom packing tape, I opened up the box to find a pristine white box inside, wrapped with a bright pink silk ribbon, with a personal letter addressed to me from Alesya. What a surprise! To be honest, I didn't really want to touch anything…okay, well, I did, but only to get to the bag hidden inside.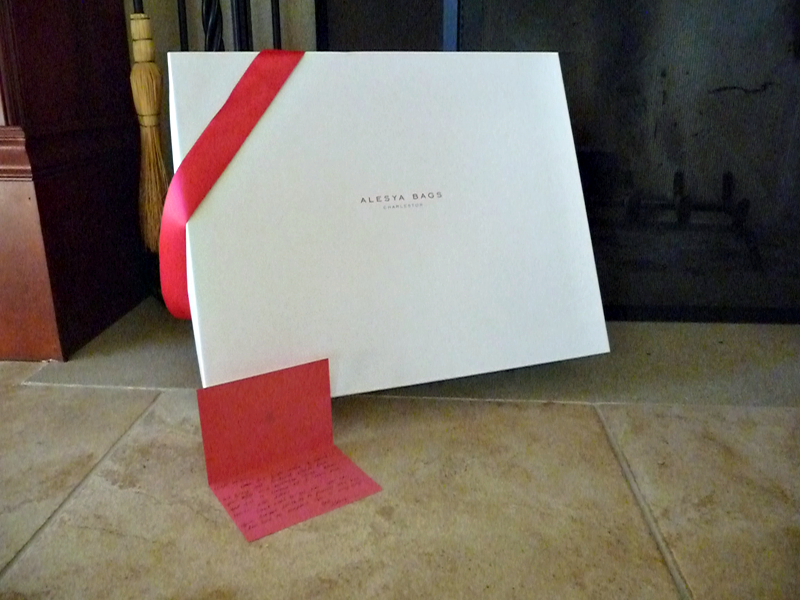 Once I forced myself to open the second box, I was happy I did. Inside was — surprise! — another adorable custom letter, the bag wrapped in its bag, and custom wrapping paper. The bright pink popped beautifully against the white of the box. I was smitten!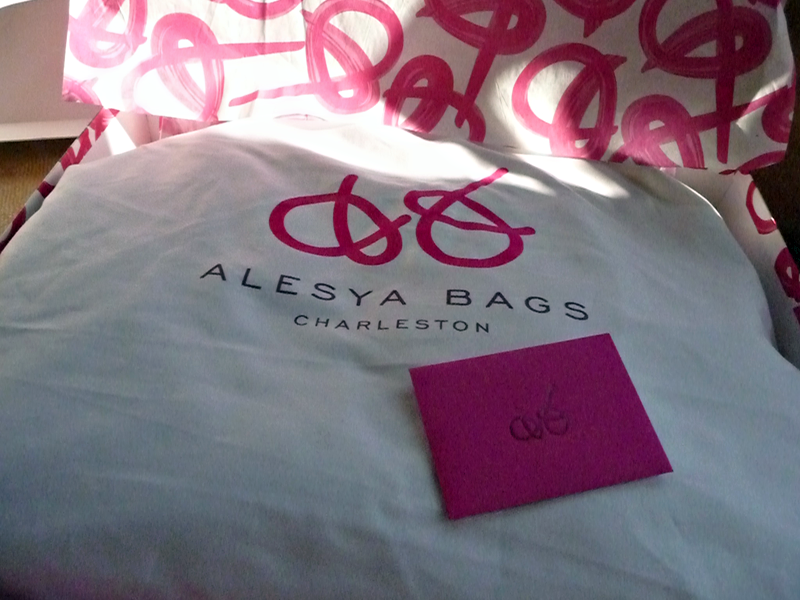 And inside that adorable little envelope…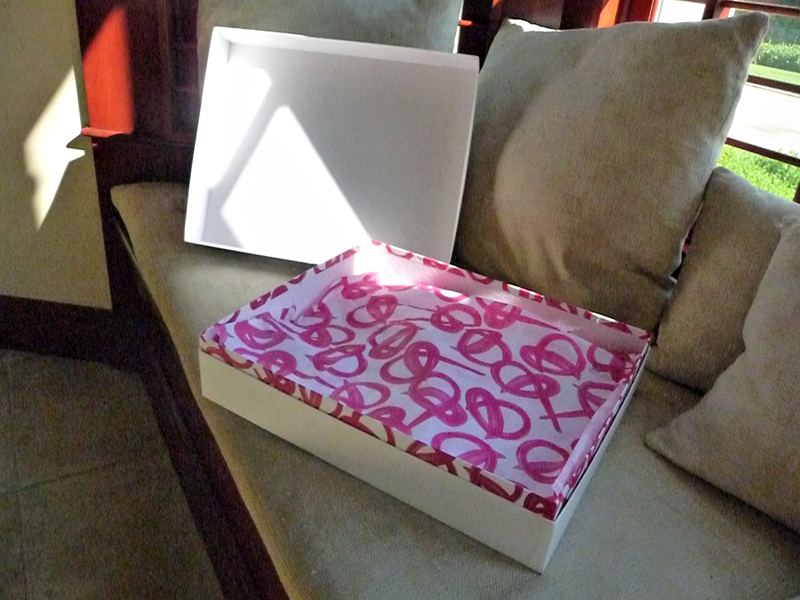 I'll admit, I wanted to keep the wrapping paper just for the heck of it.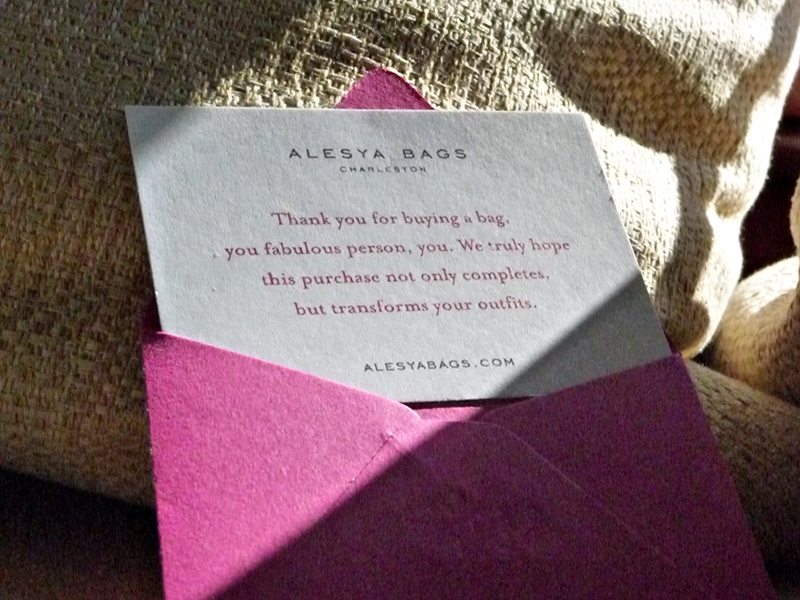 Amen. I've always been a victim of trying to tote my laptop around everywhere. I've either had purses that aren't supposed to serve as laptop bags forced to do so (usually extremely uncomfortable on my shoulders, neck, and back), or I've hauled around laptop bags that just aren't made with women in mind and end up feeling extremely unstylish. As most women know, neither of those situations turn out well!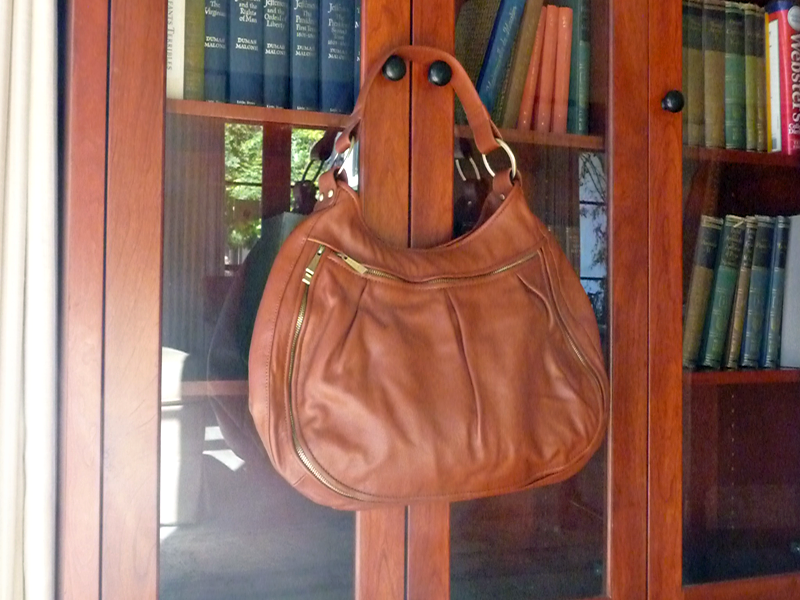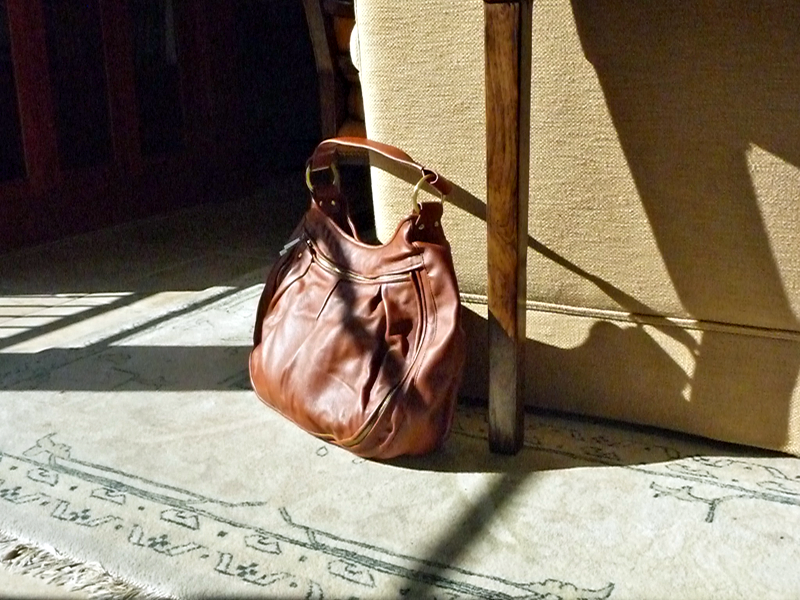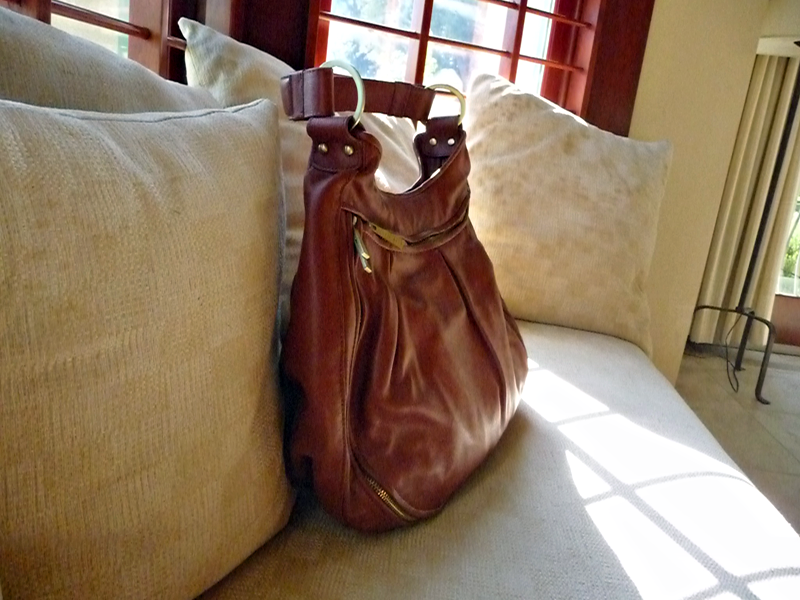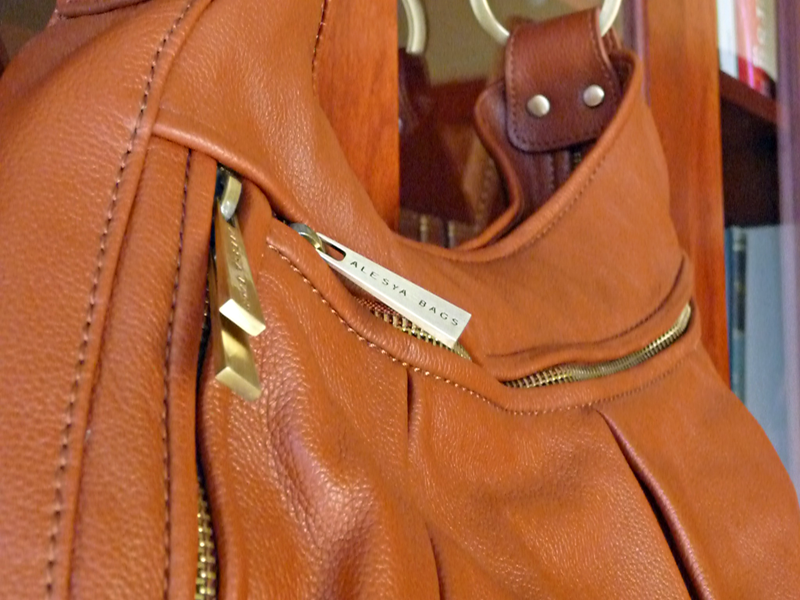 The Equestrian Tan is an absolutely great color — it's really diverse in terms of what you can style it with. As you can see, the hardware is all gold, which complements the color of the leather perfectly. Now, just what do all of those zippers actually do?
Top Horizontal Zipper: This opens up into a medium-sized pocket with dedicated pockets for a phone, pens, and a wallet, small clutch, or crossbody bag. The pocket is quite deep; I can easily fit my small crossbody bag and my Moleskine planner in it without the pocket bulging out in any strange way. The pocket is also the most easily accessible when the purse is hanging on your shoulder, which makes it quite easy to whip out your phone and check emails while you're walking to your next class. One day, I managed to fit my clutch, my planner, two bananas, my phone, and pens in this pocket. Woohoo!
Large Semi-Circular Zippers: Were you wondering where you laptop fits into this bag? Surprise! It's this pocket, and it's the secret of how you can have such a lady-like bag fit up to a 15″ laptop. The flap lifts up, and there is a padded pocket for your laptop to slip into easily. Depending on the size of your laptop, there should be space for your charger and other cords to stick in there, as well. When I got back to my room (sadly, I don't live in GJW), I stuck my 15.4″ MacBook Pro in there and zipped it up. I waltzed into my best friend and suitemate's room and asked her if she could tell I was carrying my laptop with me. Her response? A resounding, rather surprised "no!"
The Top Zipper (mirroring the strap): Ever lost your keys, gum, or parking ticket in the bottom of your bag? I sure have. The top zipper opens to reveal a shallow pocket perfect for putting things you don't want to fall to the bottom of a larger pocket. I plan on using this for smaller items such as a pill box, small papers I need to keep track of, and I anything small I need to be able to grab in a hurry while my bag is at my feet in the middle of class.
Finally, the last pocket is on the opposite side of the bag from the laptop compartment, and it's an important one for college students: the second large horizontal zipper. I'm pretty old school when it comes to studying, and I love writing everything down. I always bring notebooks to class with me to take notes, even if I do have my laptop with me. Well, never fear: the deepest pocket of them all is reserved for the back of the bag (the side that touches your body when you're wearing the bag with the laptop compartment in front). The pocket fits up to a 3″ binder, and I've fit a folder, two spiral-bound notebooks, and a novel-sized book for my class in it comfortably. I look forward to seeing how many other things I can fit in there — like a leather-bound Scripps portfolio I use for job interviews.
As you might have noticed, the Equestrian Tan color is a bit of a chameleon — it appears to be more of a caramel color in bright light, and turns into a deeper saddle brown when it's inside. I love it, though I must admit, I was digging the Exquisite Eggplant color, too. I've already received several compliments from people around campus, and I've only been carrying the bag for two days! You can't get much better than that.
So, what do you guys think? I'll be taking more pictures as I use my bag around campus. Feel free to contact me if you have questions, want to chat about the bag, or anything else…who knows, maybe I can get you a deal!